'Commercialisation' of public parks in Karachi's district Central sparks outrage
Archive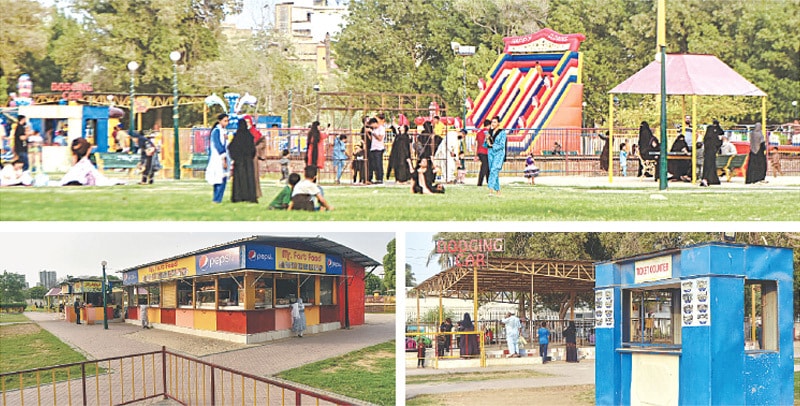 • Dozens of parks handed over to private parties under then DC Taha Saleem's 100 Parks project
• TMCs term scheme a 'scam' aimed at accommodating certain individuals
KARACHI: The commercial use of several public parks by private contractors has become a new bone of contention between local administration led by deputy commissioner of Karachi district Cent­ral and the recently elected Jamaat-i-Islami-led town municipal corporations (TMCs).
The previous administration had handed over many public parks to private people who ran their lucrative businesses on public spaces, in clear violation of the apex court's ruling, in return on 'nominal' charges, it emerged on Sunday.
These private concerns have been paying a small amount of money to the recently activated TMCs, who claim that even the electricity bills of the said premises surpass what the towns are getting.
The defunct District Municipal Corpor­ation (DMC-Central) is now divided into five towns: Gulberg, North Nazimabad, Nazimabad, New Karachi and Liaquatabad.
The then DC-Central, Taha Saleem, was the administrator of the DMC-Central and most parks were handed over to private parties during his time.
The town administrations in district Central also claim that the allowing of businesses in public parks is a violation of the apex court orders. The court in its several judgments has disallowed commercial activities in public parks, on drains and footpaths.
The officials said that the scheme was an 'initiative' taken by the then DC Saleem, who was transferred recently, to restore 100 parks in Central district. The initiative allowed several private parties to run commercial operations in the parks against certain charges.
"During my time as DC Central, Pro­ject100 was a cherished initiative. Rest­oring 100 parks seemed impossible, but with teamwork, public involvement, and recycled water, we have achieved 89 so far, with 15 nearing completion. These parks are now getting the attention they deserve," he posted last week on social media platform X, formerly known as Twitter.
However, after the local government system came and elected representatives took control of municipal affairs to some extent in their constituencies, they saw the sch­e­me as a total 'scam' only designed to facilitate certain segments, who not only caused financial damages to the towns, but also sold 'entertainment and recreational spa­c­es' which were meant to be free for the public.
'Unauthorised allotment'
In a recent move, the assistant commissioner (AC) of North Nazimabad decided to hand over a park in Block-F to private contractors for similar 'commercial' activities in return of certain charges.
However, tension escalated between the two parallel administrations of district Central — town chairmen and deputy commissioner office — when the Town Municipal Corporation (TMC) of North Nazimabad came out against the move.
North Nazimabad Town chairman Atif Ali Khan called it an attempt for "unauthorised allotment of public parks to individuals with commercial interests".
He said: "We have 14 parks in North Nazimabad which have been rented out to private contractors for commercial use over the years.
"They [private contractors] are doing businesses on public facilities and what they are paying us as a rent or charges isn't even enough to pay utility charges of the certain park. After throwing away several parks, North Nazimabad AC Hazim Bangwar recently made an attempt to allot another public park illegally in Block-F to individuals with commercial interests."
He alleged that the private contractors in over a dozen parks in his town were running commercial businesses that included selling tickets for rides for children.
The terms and conditions of the deal agreed between the DC and the contractors solely benefitted the private businesses, he claimed.
"We will take all necessary measures to reclaim the parks that have been handed over to powerful allies of the former administration for commercial purposes. Our primary focus is ensuring that public spaces remain accessible to the community and are not exploited for personal gains," added Mr Khan.
DC defends 'good work'
However, Fuad Ghaffar Soomro, who took over as DC-Central last week, defen­ded the "good work" of his predecessors.
He said they had taken the initiative only to restore parks and involve the community to provide 'better facilities' to people of the areas.
"I think, it's more kind of a political agenda than logic to oppose such initiatives," he told Dawn, claiming that the parks, restored through private parties and community involvement, were not being used for commercial purposes.
However, he admitted that selling rides for kids inside the parks was a commercial activity and expressed the resolve to look into this matter, if any of the facilities were being used for such business ventures.
Published in Dawn, September 18th, 2023